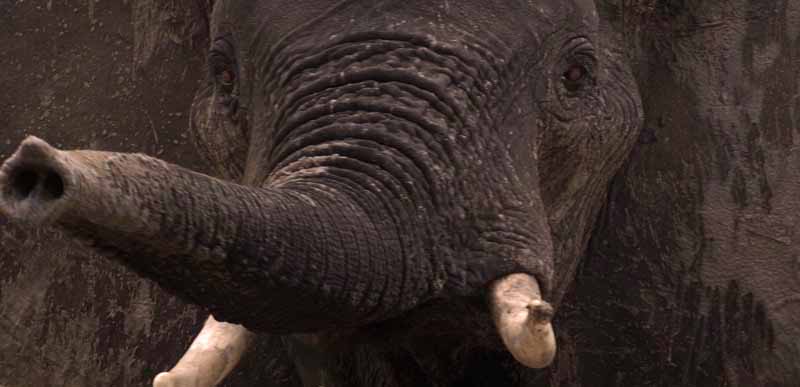 Good time for predators
Once more, we were faced with the inevitabil­ity of events. A few hun­dred meters from the camp, alerted by a group of vul­tures, we dis­cov­ered the car­cass of a young ele­phant, about three years old, it was one that we had res­cued from the sludge few days pre­vi­ously. He had spent the last few days feed­ing around the camp as if had found a safe haven. Hye­nas had killed him dur­ing the night. A few miles away, near the road­side, some thirty lions jos­tled around the car­cass of an adult ele­phant. The dif­fer­ence is, where lions kill their prey more often directly, hye­nas sim­ply devour them with­out wor­ries whether they are still alive or not. At risk of being called anthro­po­mor­phic, we do find nature very cruel dur­ing this period. As if nature can be called good or bad! Nature is good when it is good, and it is bad when it is bad, like what the poet Prévert said! And if we think that man is one of his cre­ations, gives seri­ous doubts on the the­ory of Rousseau, who argues that man is nat­u­rally good. Still immersed in nature, we can only agree with Schopen­hauer who said: "A sin­gle glance at nature, refreshes us, bright­ens and com­forts all one's tor­mented pas­sions, needs and wor­ries." It really is! But from time to time, we would like the nature, as it is not.
to be continued…
Bon temps pour les prédateurs
Encore une fois nous avons été mis en face de la fatal­ité des événe­ments. A quelques cen­taines de mètres du camp, alertés par un regroupe­ment de vau­tours, nous décou­vrîmes la car­casse d'un jeune éléphant d'environ trois ans, que nous avions dégagé des boues quelques jours aupar­a­vant et qui depuis rodait autour du camps comme s'il y avait trouvé refuge. Il s'était fait tuer par les hyènes durant la nuit. A quelques kilo­mètres de là, presque en bor­dure de route, une trentaine de lions se bous­cu­laient autour de la car­casse d'un éléphant adulte. La dif­férence est que si les lions tuent le plus sou­vent directe­ment leur proie, les hyènes se con­tentent de les dévorer sans soucis de savoir qu'elles vivent encore ou non. Sans faire de pro­jec­tion on trou­vera la nature bien cru­elle en cette péri­ode. Comme si la nature était mau­vaise ou bonne. La nature est bonne quand elle est bonne, elle est mau­vaise quand elle est mau­vaise, dirait Prévert! Et si l'on conçoit, que l'homme en est un de ses avatars on ne pourra émet­tre des doutes fondés que doute du peu de rai­son avec laque­lle qui a fait dire à Rousseau que l'homme est naturelle­ment bon. .Pour­tant plongé dans la nature, on ne peut qu'adhérer à ce que dit Schopen­hauer: «Un seul et libre regard jeté sur la nature, suf­fit pour nous rafraîchir, égayer et récon­forter d'un seul coup celui que tour­mentent les pas­sions, les besoins et les soucis. » C'est vrai­ment cela! Mais de temps en temps on la souhait­erait comme elle n'est pas.
à suivre…