With the pur­pose of con­sis­tent and opti­mal qual­ity, Patrick de Wilde's pho­tographs are processed exclu­sively at the pro­fes­sional print­ers CENTRAL DUPON IMAGES PARIS. They are printed on Fine Art paper, cho­sen for its high tech­ni­cal per­for­mance, and with highly resis­tant Ultra­Chrome ink, using an exclu­sive process by Epson. Each print, signed and ref­er­enced by the artist, is encrypted and reg­is­tered with a "bub­ble code" ARTrust©. Each series is lim­ited to a max­i­mum of 15 copies. The prints are deliv­ered in a "float­ing frame".
Allo scopo di garan­tire un liv­ello qual­i­ta­tivo otti­male, le fotografie di Patrick de Wilde sono riprodotte esclu­si­va­mente da CENTRAL DUPON IMAGES PARIS. Sono real­iz­zate su carta Fine Art, selezion­ata per la sua alta resa tec­nica, e con inchiostro Ultra Chrome, uti­liz­zando mac­chine Epson. Ogni tiratura, fir­mata e aut­en­ti­cata dall'artista, è con­trasseg­nata e reg­is­trata tramite un codice infor­ma­tiz­zato ARTrust©. Le serie sono lim­i­tate al mas­simo a 15 esem­plari, con­seg­nati ed esposti su bacheca indi­vid­uale e sigillata.
Dans le soucis d'un suivi qual­i­tatif opti­mal, les tirages pho­tographiques de Patrick de Wilde sont con­fiés en exclu­siv­ité au labo pro­fes­sion­nel CENTRAL DUPON IMAGES PARIS. Ils sont réal­isés sur papier Fine Art d'une haute per­for­mance tech­nique avec des encres Ultra­Chrome de très grande résis­tance selon le procédé exclusif Epson. Chaque tirage, signé et référencé par l'artiste, est scellé et enreg­istré par un "code à bulles" ARTrust©. Les séries sont lim­itées à 15 exem­plaires maximum. Chaque tirage est livré, encadré en "caisse américaine".
Prices on request
Pho­to­graphic
&

Artis­tic background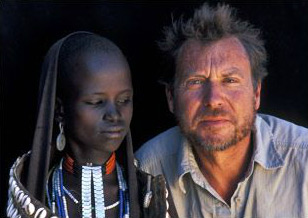 There are mul­ti­ple man­ners to prac­tice the art of pho­tog­ra­phy. And within each of them, count­less ways of doing so. So that it seems impos­si­ble to ven­ture any gen­eral remarks about pho­tog­ra­phy and to learn valu­able lessons from what it could or could not be.
Speak­ing about pho­tog­ra­phy is speak­ing in the sin­gu­lar, every time. It is pay­ing attention.
Patrick de Wilde's inten­sive prac­tice of pho­tog­ra­phy goes back to around thirty years. Before that and among other activ­i­ties, he pur­sued the occu­pa­tions of artis­tic direc­tor for the Marie-Claire group, edi­to­r­ial direc­tor at Atlas pub­lish­ing house, main edi­tor for L'Expansion Group, art direc­tor in his own stu­dio while con­tin­u­ing purely artis­tic work through draw­ing and painting.
Patrick resumed his activ­ity of pho­tog­ra­phy [that he had ini­tially stud­ied at the Col­lege of Graphic Arts in Paris with Jean-Pierre Sudre] through what has become known as grand reportage or inter­na­tional report­ing both out of inter­est in the image and to sat­isfy his need to see the world. He first became attached to the study of Asian reli­gions: Bud­dhism, Jain­ism, Cao­daism, Shin­to­ism, Hin­duism… Then he immersed him­self into the wildest places and far reaches of south­ern Africa, Amer­ica, the Arc­tic and Antarc­tic to observe ani­mal life.
He ded­i­cated the last few years to the study of shaman­ism and ani­mist beliefs. And yet, dur­ing all that time, in addi­tion to his works of order, he never ceased to cre­ate por­traits of peo­ple whom he came across by chance along his way in all the con­ti­nents. So, Patrick set up his rough-and-ready stu­dio in jun­gles, deserts, moun­tains, tem­ples and mar­ket­places. All of them car­ried out in a sim­i­lar way, with the same sym­bolic black sheet as a back­ground, his pho­tographs are meant to be an approach of human plu­ral­ity. They both con­vey diver­sity and uniqueness.
This work resulted in a good many pub­li­ca­tions in mag­a­zine press [Grands Reportages, Géo, Airone, BBC Wild Life, Ushuaïa, Terre Sauvage, Ani­man, Terra, etc ] and in about thirty albums. Por­traits taken from the most recent works pub­lished by La Mar­tinière [A Hau­teur d'Homme / L'homme Pluriel / Les Âges de la Vie] were exhib­ited in Paris at Tour du Lou­vre, at the Unesco House, at Grand Palais [Art Paris], at Réfec­toire des Corde­liers, at Galerie Descartes… and else­where in Le Mans, Avi­gnon, Massy, Blois… They rep­re­sented France in Qatar as part of the Doh'art Festival.
Now, can Patrick de Wilde claim he pos­sesses just exper­tise of pho­to­graphic record­ing? He prob­a­bly can, at least because of a cer­tain way of doing things, for he intended to be some­one igno­rant strolling idly, and it allowed him, he says, to live the world in the most free, cap­ti­vat­ing, edi­fy­ing and pos­si­bly sig­nif­i­cant manner.
Going in search of one's own sen­si­tiv­ity, not only appears to him as a means to escape what Gilles Deleuze calls the soci­ety of con­trol where every­thing is done to con­fis­cate the time of con­scious­ness from the indi­vid­ual to the detri­ment of his unique­ness. It is also one of the most beau­ti­ful and grat­i­fy­ing sub­ject of adven­ture because it is enshrined in enthu­si­asm and sin­cer­ity, within life itself.
Con­tact Form
Com­ments or ques­tions are welcome.