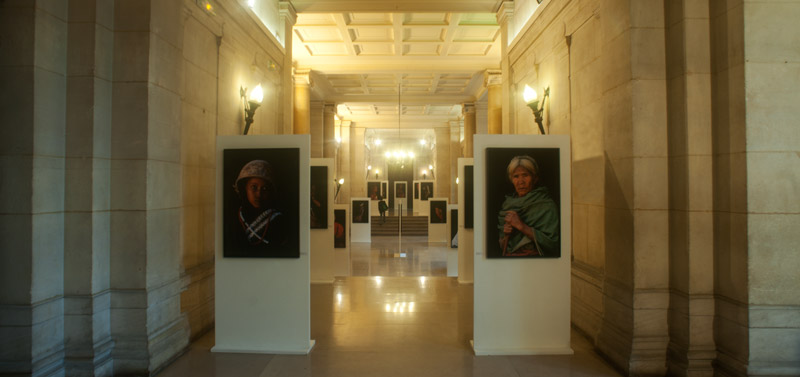 FACES

OF

DIGNITY
Paris Descartes Uni­ver­sity will be pre­sent­ing a selec­tion of my work on peo­ple through­out the world from Thurs­day 8 to 24 Novem­ber as part of the sec­onf Fes­ti­val of Pho­tog­ra­phy in Saint-Germain-des-Prés which this year will be ded­i­cated to travel and dream. Counter-tenor Sebastien Fournier will give us the immense plea­sure of per­form­ing pieces of baroque music in the Grand Amphithe­ater on the open­ing night Thurs­day 15 Novem­ber 8pm.The pho­tographs on dis­play, some of them new, oth­ers already pub­lished in the cof­fee table books: A Hau­teur d'Homme, L'Homme Pluriel and most recently Les Ages de la Vie [La Mar­t­inère Pub­lisher], go against the cur­rent artis­tic trends of mer­ci­lessly show­ing Man in his most cor­rupt and degrad­ing aspects, and present por­traits con­vey­ing what is most secret and dig­ni­fied. Express­ing con­fi­dence in a cer­tain evi­dence of things, pho­tog­ra­phy, as I see it, nec­es­sar­ily comes down on the side of ide­al­ism. The image of Man and the world given by each of us par­tic­i­pates in our gen­eral per­cep­tion of them. Oscar Wilde claimed that things can be seen prop­erly only when there is beauty in them. Pre­sent­ing the best of human nature as a coun­ter­point to his evil incli­na­tions is a truly human­i­tar­ian act.
VISAGES

DE

LA

DIGNITE
L'Université Paris Descartes présen­tera une sélec­tion du tra­vail que j'ai réal­isé sur les hommes à tra­vers le monde, du jeudi 8 au samedi 24 novem­bre dans le cadre du sec­ond Fes­ti­val de la Photo à Saint-Germain-des-Prés con­sacré, cette année, aux voy­ages et aux rêves. Le contre-ténor Sébastien Fournier nous fera l'immense plaisir de venir inter­préter, dans le grand amphithéâtre de la fac­ulté, des œuvres de la musique baroque lors de la soirée inau­gu­rale qui se tien­dra le jeudi 15 novem­bre. Les pho­tos exposées,
pour cer­taines inédites, pour d'autres ayant déjà été pub­liées dans des ouvrages tels que A hau­teur d'Homme, L'Homme Pluriel et tout récem­ment Les âges de la vie [édt. de La Mar­tinière] présen­tent, à con­tre courant d'une ten­dance artis­tique en vogue qui s'acharne à présen­ter l'homme dans ce qu'il a de plus cor­rompu et dégradant, des por­traits où s'exprime ce qu'il y a de plus secret et de plus digne. Man­i­fes­tant sa con­fi­ance en une cer­taine évidence des choses, la pho­togra­phie, telle que je la conçois, verse néces­saire­ment du côté de l'idéalisme. L'image que cha­cun donne à voir du monde et de l'homme par­ticipe à l'idée qu'on s'en fait en général. Elle les con­struit. Oscar Wilde pré­tendait qu'on ne voit bien les choses que lorsqu'on en voit la beauté. Présen­ter le bon côté de l'humain en con­tre­point de ses mau­vais pen­chants est un geste pro­fondé­ment écol­o­giste et humanitaire.